At A.Fox Environmental, our mission is to protect and enhance the well-being of individuals and their environments through our specialized expertise in indoor air quality, mold inspections, and leak detection for properties.
We are dedicated to ensuring that every indoor space is healthy, safe, and comfortable for its occupants. By conducting thorough assessments and utilizing advanced techniques, we identify and address indoor air pollutants, mold growth, and water leaks to create healthier living and working environments.
Our commitment extends beyond providing exceptional services. We strive to educate and empower our clients, equipping them with the knowledge and tools to maintain optimal indoor air quality and prevent potential risks associated with mold and water damage.
Through our environmentally responsible practices and sustainable solutions, we aim to contribute to a greener future. We believe that by prioritizing the health and well-being of individuals and the preservation of our environment, we can make a positive impact on both a local and global scale.
With integrity, expertise, and a customer-centric approach, we are driven to be the trusted partner in promoting healthier indoor environments. Our mission is to improve lives by ensuring clean air, detecting and mitigating mold issues, and preventing water damage in properties.
Join us in our mission to create healthier spaces and make a lasting difference for individuals, communities, and the planet we call home.
We look forward to serving your property.
Thomas Volpe and Mathew Volpe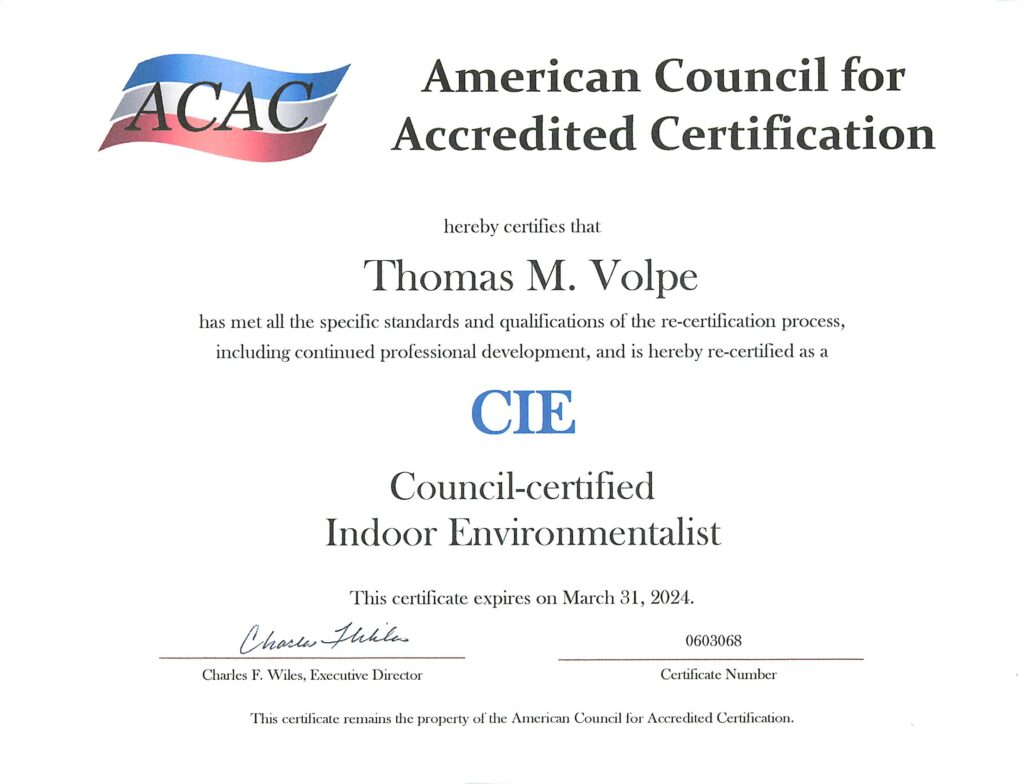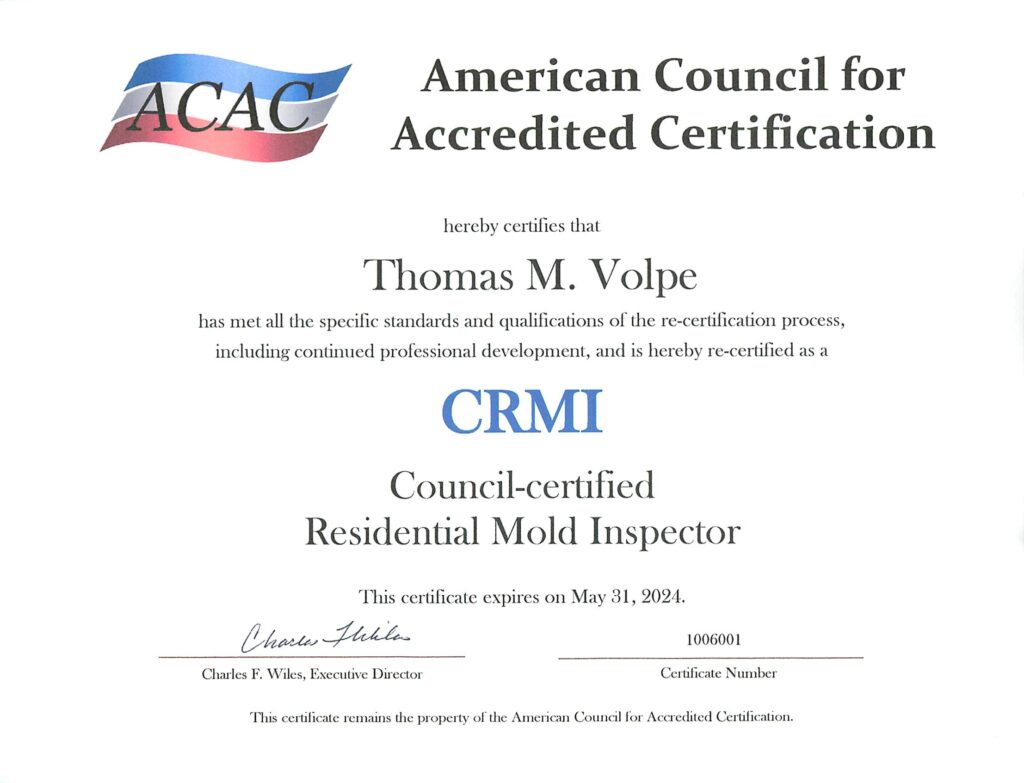 Thomas Volpe is certified as a Property & Mold Inspector in the State of California.
He Founded "A Fox Environmental Corp.", an Indoor Environmental Consulting Firm.
He Attained Certification and Membership with "Indoor Air Quality Association" (IAQA), "Indoor Environmental Standards Organization", "American Council for Accredited Certification" and "International Association of Mold Management".
He successfully completed and maintains all of the following competencies in the industry:
✓ Certified Indoor Environmentalist, CIE
✓ Certified Residential Mold Inspector, CRMI
✓ Certified Building Science Thermographer, CBST
✓ Mold and Healthy Home Training
✓ Mold Sampling and Survey
✓300 Series Mold and Healthy Home Training
Thomas Volpe is a founding, advisory board member IAQA, Irvine Chapter
Licenses, Education /degrees and experience:
• Licensed Engineer with Cushman Wakefield in Los
Angeles for 3 years
• Licensed Engineer with the City of New York Health and
Hospital Corporation for 25 years
• Graduate of New York City Technical College with a
degree in Environmental Control Technology
• Graduate of Kingsborough College with a degree in
Business Management
• Baruch College, New York – Business Management
• Licensed New York City Refrigeration Engineer
• License in New York Residual Fuel and Oil Burners
• New York State Power Engineers License
• Environmental Protection Agency Certificate
• BOMI-SMT System Maintenance Technician
Mission
Our mission is to ensure healthy and sustainable indoor environments by providing exceptional services in indoor air quality, mold inspections, and leak detection for residential and commercial properties.
Vision
We envision a future where every indoor space promotes health, well-being, and sustainability. Through our expertise and advanced technologies, we strive to create environments free from indoor pollutants, mold, and water damage, ensuring the highest quality of indoor air for individuals and their surroundings.